The first-ever Hyundai Venue. Arriving Fall 2019.

---
The 2020 Hyundai Venue is the automaker's newest and now smallest crossover SUV. The Hyundai Venue release date is set for fall 2019. During the Hyundai Venue reveal, we learned about the starting prices, configurations, specs, and performance. Let's take a closer look at the new Hyundai crossover that we will be featuring at Phil Long Hyundai of Motor City in Colorado Springs.


2020 Hyundai Venue Price
The 2020 Hyundai Venue price might be low, but this crossover has a lot of quality features. While we don't have exact numbers yet, the first-ever Hyundai venue starting price is expected to be around $20,000. The new Venue is the most affordable Hyundai SUV to date.


2020 Hyundai Venue Configurations
We don't know how many 2020 Hyundai Venue trim levels there will be yet, but anticipate there will be one to fit every need. We could see configurations similar to the 2020 Hyundai Kona, which is the next in the lineup, with 5 trim levels: SE, SEL, SEL Plus, Limited, and Ultimate. SE, SEL, and Limited have become staple trim levels that appear on almost every Hyundai vehicle.


2020 Hyundai Venue Exterior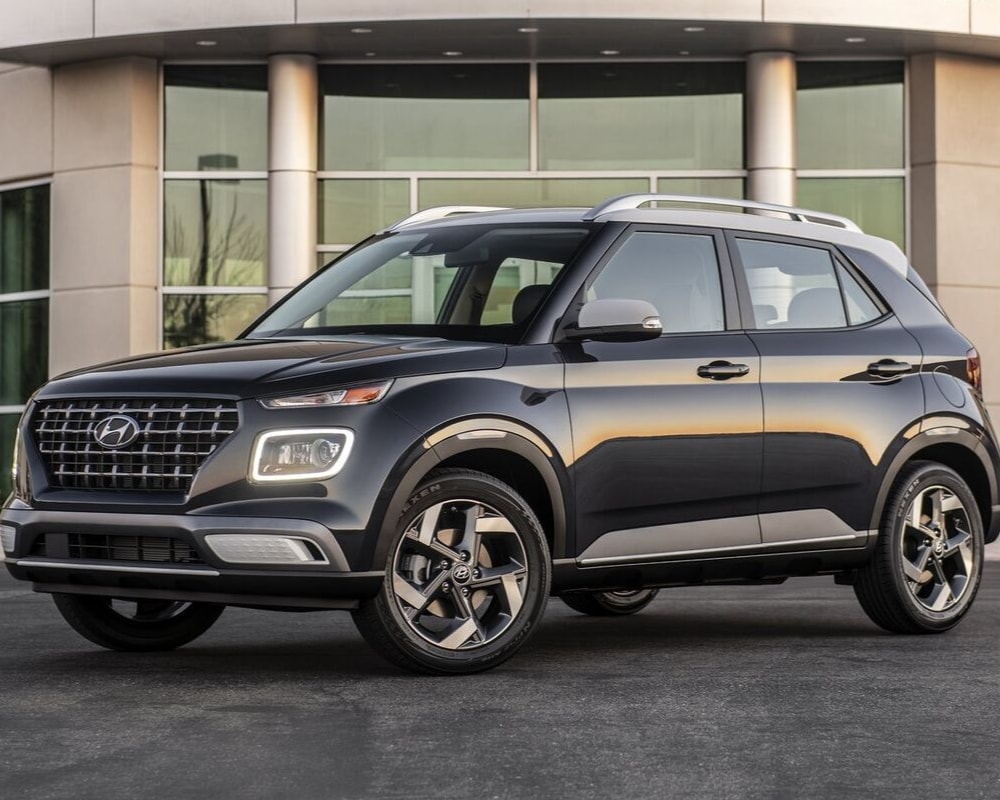 The new Hyundai Venue exterior design includes a chrome grille, optional 17-inch wheels as 15-inch wheels come standard, split headlamps, and 8 color choices. There are even some two-tone paint color options. Among the Hyundai Venue colors, you can choose Ceramic White, Stellar Silver, Black Noir, and Galactic Gray. The 2020 Hyundai Venue's exterior dimensions measure in at 158.9" L x 69.7" W. It has a wheelbase of 99.2 inches and stands a half of an inch taller than the Kona.


2020 Hyundai Venue Performance
The 2020 Hyundai Venue is expected to include a 1.6L 4-cylinder engine that will pair to a 6-speed manual or CVT. There's no exact horsepower data yet, but it's speculated to push 121HP producing 113 lb-ft of torque. Front-wheel-drive is standard with no mention of an all-wheel-drive variant. However, to compensate for no AWD, there is a Snow Mode that would prove beneficial to those in cold/snowy regions.


2020 Hyundai Venue MPG
We don't yet know the EPA-estimated fuel economy numbers of the 2020 Hyundai Venue. Initial Hyundai Venue mpg estimates from Hyundai engineers claim the combined fuel economy to be 33 mpg.


2020 Hyundai Venue Interior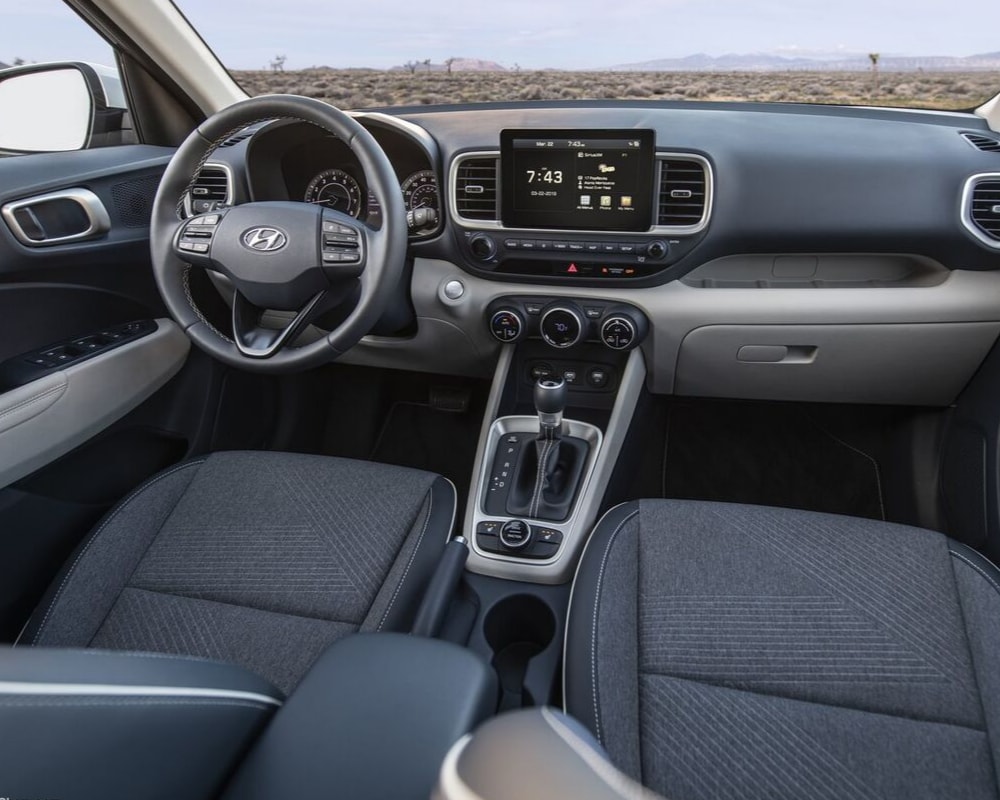 The 2020 Hyundai Venue contains almost the same amount of cargo room as the larger Hyundai Kona when the rear seats are in use. The Hyundai Venue interior provides an 8-inch touchscreen infotainment system, Android Auto, Apple CarPlay, and rear 60/40 split fold-down seats. Optional features will include a navigation system with real-time traffic updates. You can expect an array of driver-assist technologies including lane-keeping assist, a driver attention warning monitor, forward collision avoidance with pedestrian detection, automated emergency braking and optional rear cross-traffic collision avoidance plus blind spot collision warning powered by Hyundai SmartSense.


2020 Hyundai Venue vs. Hyundai Kona
The 2020 Hyundai Venue will be slightly smaller than the Hyundai Kona in every way except the height. Still, the two Hyundai crossover SUVs remain close in size. The most significant difference between the two will be the price. A new Hyundai Venue is expected to cost less than $20,000, making it more affordable than any other Hyundai SUV. The Kona has a more rounded exterior with a slanted rear that appears like more of a hatchback where the Venue will stand with a design more similar to the traditional SUV. In comparison, the 2020 Hyundai Kona starts at slightly more than $20,000. The new Venue crossover will be in direct competition against the Ford EcoSport, Kia Soul and Nissan Kicks.


2020 Hyundai Venue Reviews & Ratings
There are no safety ratings available on the 2020 Hyundai Venue yet provided by either the IIHS or NHTSA. Still, several automotive publications have weighed in with their thoughts. Motor Trend claims this Hyundai SUV is "loaded with goodies." In addition, Top Speed mentioned that this SUV offers "substantial value for the money through numerous standard features, modern technology and plenty of options." Even KBB says this Hyundai provides the "right tech, right price."


Test Drive the New 2020 Hyundai Venue

---
Schedule a Test Drive
New 2020 Hyundai Venue Inventory