With the release of the 2022 Hyundai Ioniq 5 around the corner, EV enthusiasts are looking for more information about this electric crossover. Our Hyundai 45 evaluation will look at the performance specs, EV range, battery, configuration, release date, pricing, interior features, and ratings.
2022 Hyundai Ioniq 5 (45 EV) Release Date
The Hyundai Ioniq US release date should occur before the end of the year. However, before the Ioniq electric release date, we expect a complete reveal to occur later in February 2021. As more information is revealed about the Hyundai 45 release date, we will share it with you.
Make an Inquiry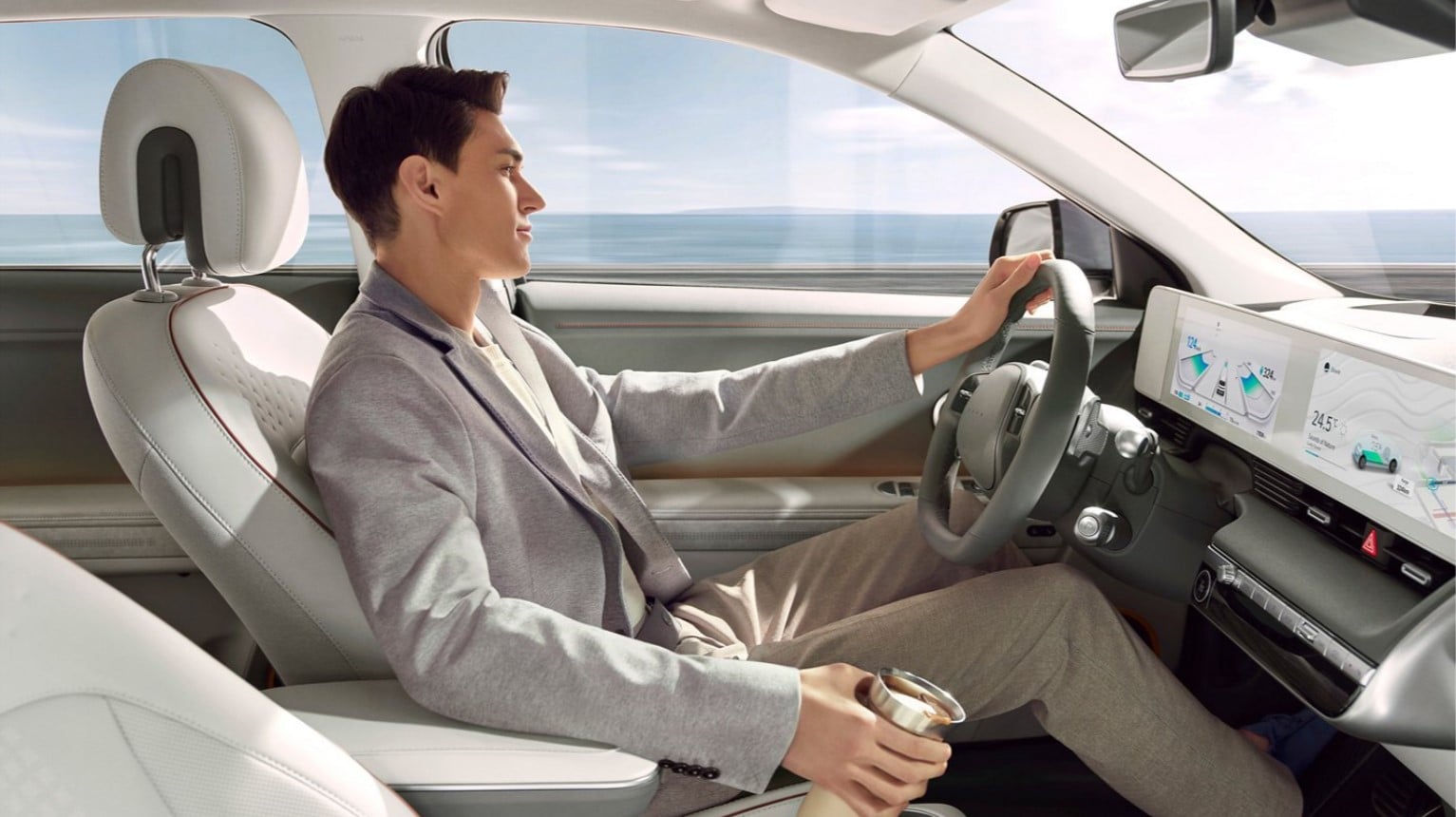 2022 Hyundai Ioniq 5 (45 EV) Price
What will the cost of the Hyundai Ioniq new model be? The automaker hasn't released any information yet. If we base the estimates off the $38,000 price of the Hyundai Kona Electric, we can assume the Hyundai 45 EV Concept might cost around $45,000.
2022 Hyundai Ioniq 5 (45 EV) Trims & Configurations
The Kona Electric comes in three trim levels - SEL, Limited, and Ultimate. If the company wants to keep things uniform, it's likely that there will be around three trim levels for the Hyundai 45 EV too.
2022 Hyundai Ioniq 5 (45 EV) Engine & Powertrain Specs
The 2022 Ioniq 5 has a completely electric powertrain that will produce 313 horsepower. It will be built on the E-GMP platform and comes with a standard all-wheel-drive. Hyundai will be releasing more performance information about the Ioniq AWD model soon.
2022 Hyundai Ioniq 5 (45) EV Range & Battery
There are two battery options with the 2022 Hyundai Ioniq 5: the 58-kWh and 73-kWh pack. This EV might be able to travel nearly 300 miles on a single charge. It will also include fast-charging capability, allowing the battery to charge to 80 percent in just 18 minutes. In five minutes, you might be able to get 60 miles of range.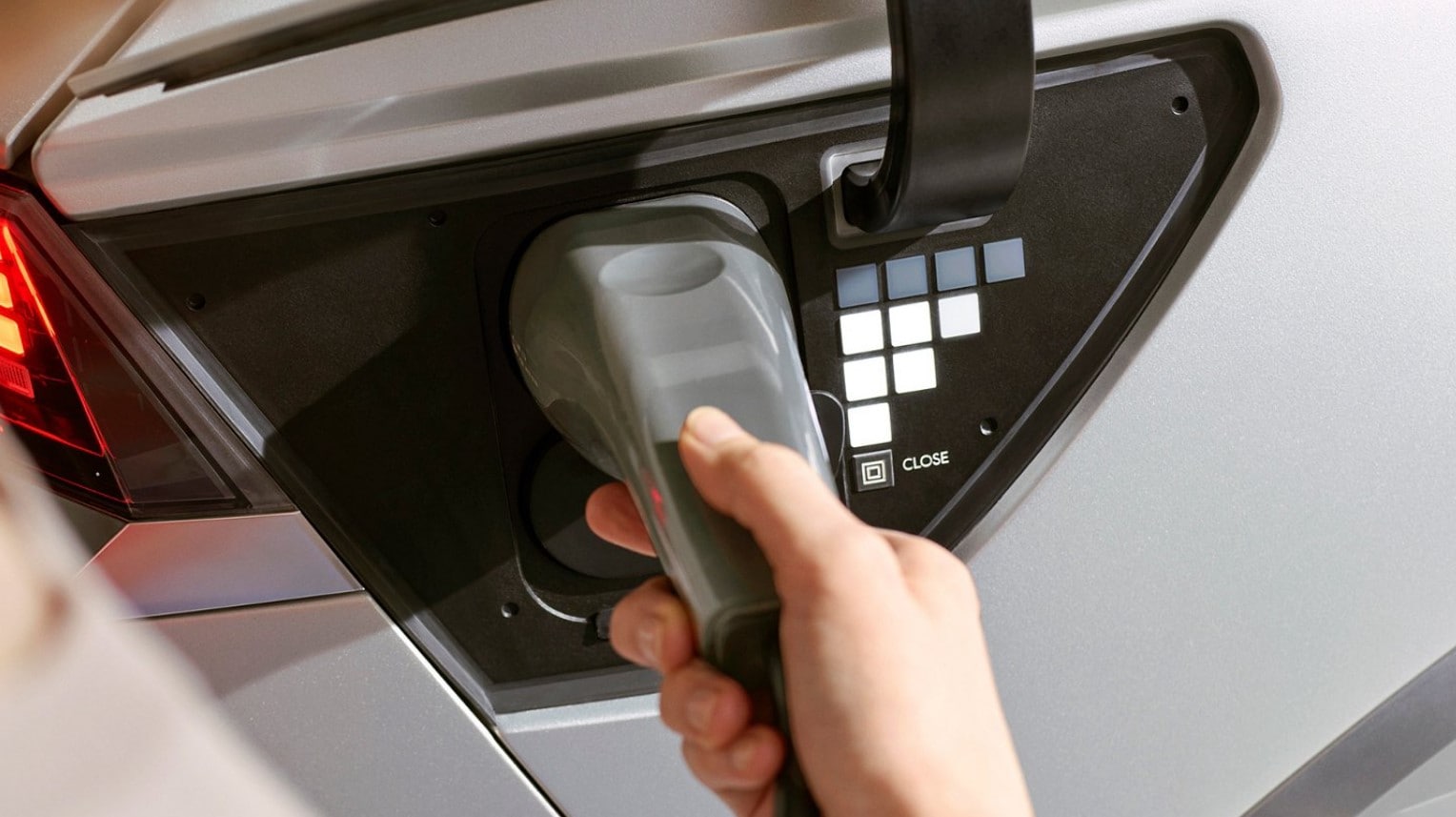 2022 Hyundai Ioniq 5 (45 EV) Interior Design & Features
Parts of the 2022 Hyundai Ioniq 5 interior have been revealed. Shots show that the front contains two screens, an infotainment center, and an instrument cluster. We aren't sure how large either will be yet. Both front seats also have footrests for those times when the vehicle is charging. Additionally, the front seats are wrapped in recycled materials, such as recycled plastic bottles, wool, and sugar cane.
2022 Hyundai Ioniq 5 (45 EV) Exterior Dimensions & Colors
We don't know a lot about the exterior style yet, but the proportions seem to match that of a hatchback-type vehicle. It might be the same height as the Kona but slightly longer, giving it a sleek appearance.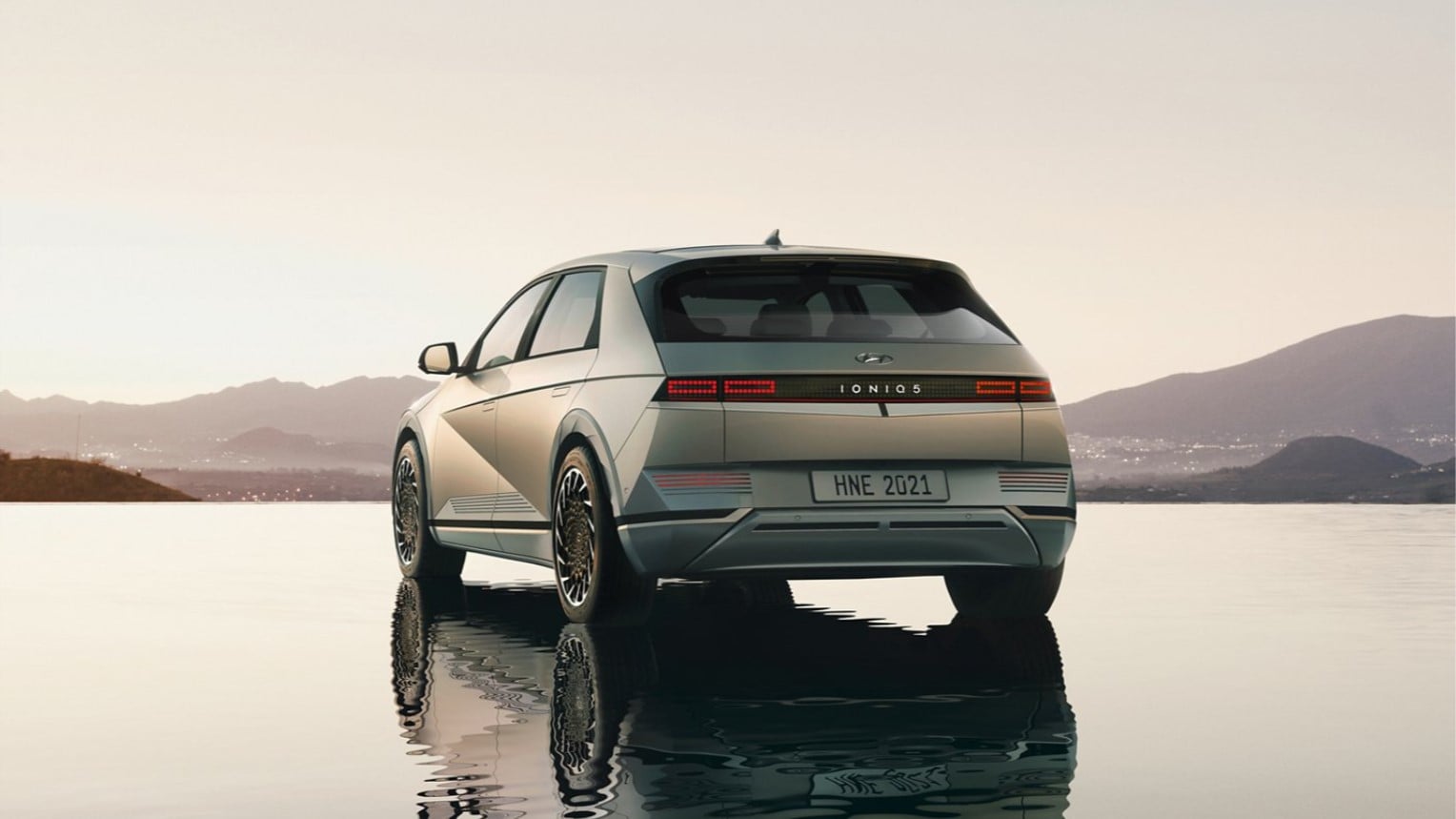 2022 Hyundai Ioniq 5 vs. Hyundai Ioniq: How is it Different?
The Hyundai Ioniq Hybrid and Plug-in Hybrid include a 1.6-liter four-cylinder engine working with an electric motor to produce a combined 139 horsepower. This pairs with a six-speed dual-clutch automatic transmission. There is an Ioniq Electric model that includes an electric motor producing 134 horsepower and a single-speed transmission.
2022 Hyundai Ioniq 5 (45 EV) Reviews & Ratings
There aren't any safety ratings yet for the 2022 Hyundai Ioniq. Additionally, with so little news to go on, many auto publications aren't sure what to expect yet. Still, that hasn't stopped them from speculating. Motor Trend compares the new Hyundai to a BMW, while Hyundai goes on to say, "IONIQ 5 is also the first Hyundai vehicle to feature a clamshell hood that spans the entire width of the car, thus minimizing panel gaps and creating a clean and high-tech overall look."